Best Soccer Balls in 2023, Latest Reviews And Buying Guide
Research Time: 105 hours
Considered Balls: 8
Tested by: 5 Players
Are you fed up with choosing unauthentic soccer balls for your game? If you don't know about a ball's proper selection, then this best soccer balls article is for you. It will assist you with making an accurate purchase and guide you about what type of ball is the best choice for you.
When it comes to buying a ball, a few things should knock your mind: durability, materials, performance, size, and price. Today, you will know and learn about how to buy good soccer balls according to your purpose of play.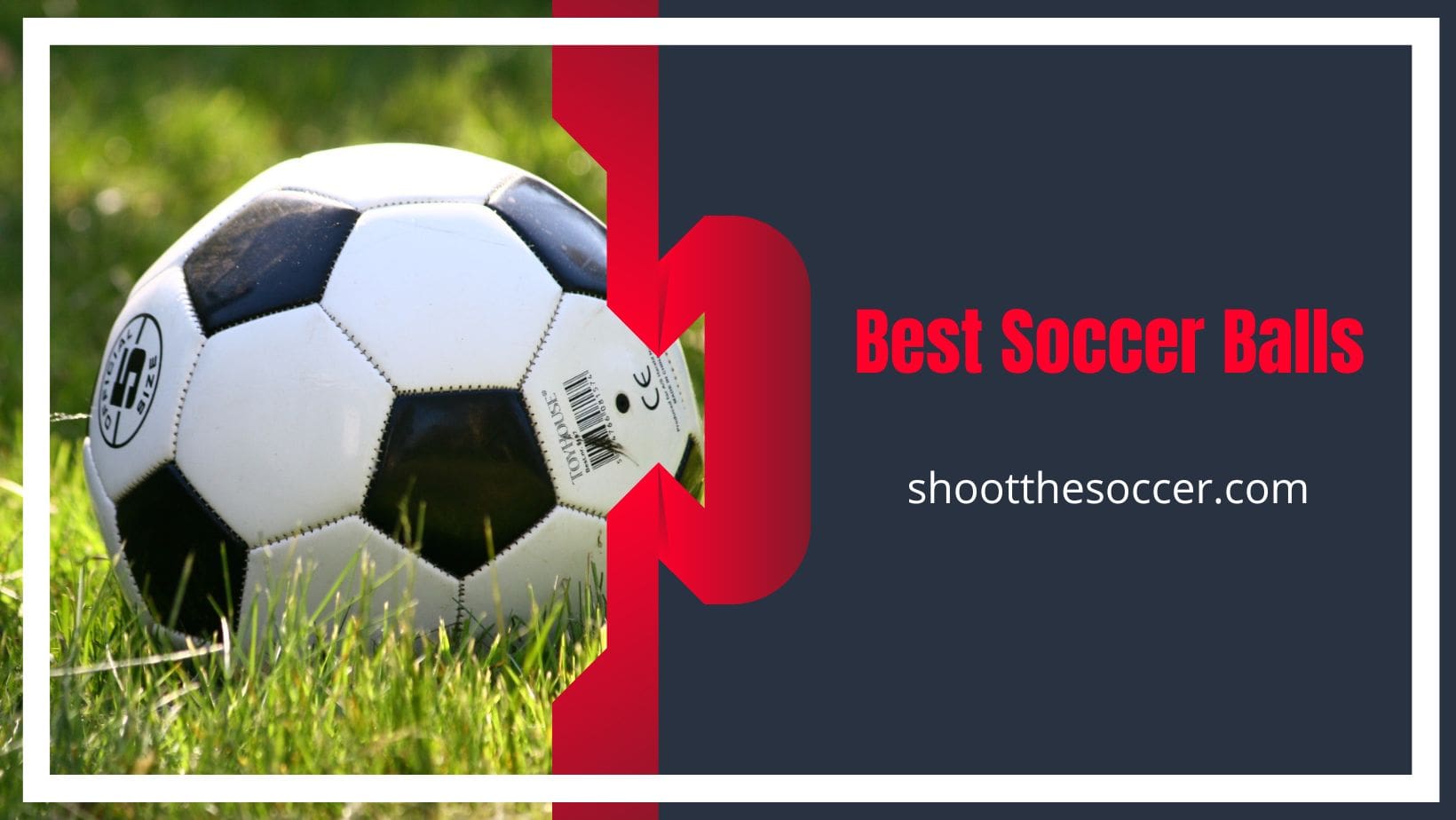 Our expert team has repeatedly tested these balls that we presented to you. Preparing this list and assembling these impressive balls took us 92 hours to help you find the best ones so that you can improve your soccer skills and enjoy the game.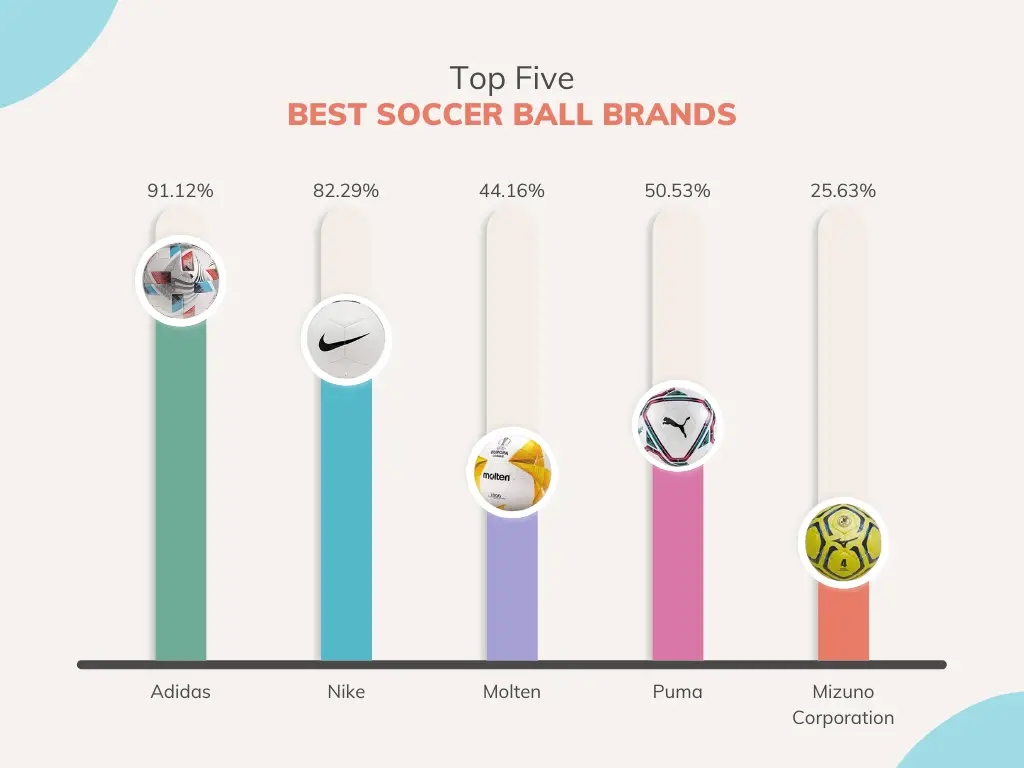 Disclaimer:
As a part of the maintenance of this website, we are linking to Amazon and other marketplaces so if you make a purchase, we may earn a small commission at no extra cost to you.
Let's Know About 9 Best Soccer Balls in 2023 – Top Of all the Time in the World
In a hurry!?
If you don't have much time use these links below to quickly find the good quality footballs. You can be assured we only choose the best products and services…
My No. 1: Adidas Al Rihla Pro
Runner-Up: Adidas Uniforia Pro
Nike Mens NK MERLIN – Official Matches' Professional Soccer Ball
Specifications:
4-panel construction
Reinforced Rubber
Durable casing
A perfect soccer match ball for men. Designed for professional matches and professional players. Some of this ball's best qualities are air retention and durability.
Pros
Fewer panels for better flight.
Film-coated to retain the shape and the color of the ball.
Soft-touch.
Good for dribbling skill's imrpovemnt.
Provides better trajectory due to its optimal shape.
Retains air well as compared to some other official match balls.
Cons
A bit expensive but not waterproof.
Can't be used for practice and training sessions.
If you are looking for one of the perfect size 5 official match balls for men, let us introduce you to Nike Men's NK MERLIN. A soccer ball that performs brilliantly on natural grass and Astro.
Its stitching and cover don't only improve its performance but also help the ball to maintain its shape when kicked hard. Due to its spherical shape and stitching, it provides a great trajectory and flies stably both in warm and cold weather.
This innovative football is a lot better than some other Nike's balls such as; Nike Academy and Nike Pitch Team. The only reason that helps this ball to outperform its competitors is, It uses ACC technology that helps it to control the ball in a better way than the above-mentioned ones. The surface is grippy in both dry and wet conditions. As per our team's observation, you can improve your dribbling skills easily with this grippy ball.
While it is an official match ball, so it is a bit expensive, it may not be affordable for practice and training sessions because it's not very suitable for that. You can improve your dribbling skills with it, but you shouldn't overuse it to damage its cover and shape.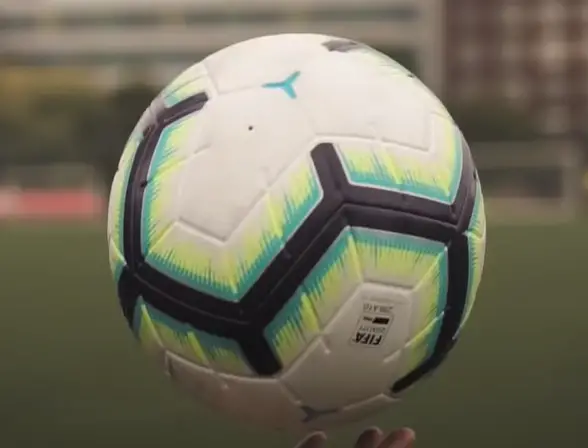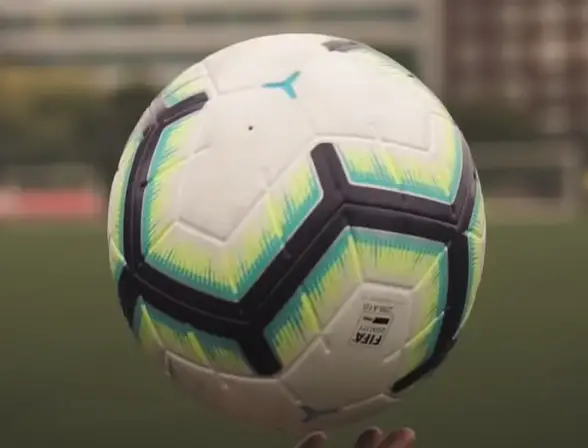 In addition to its 4-panel construction and the ACC technology that is used in it also disrupts airflow all across the ball for a better and stable flight. Furthermore, the ball meets resistance at a later point in its trajectory through the air, and as a result, it maintains high speed for a more extended period.
Let us tell you about some of its interior qualities by mentioning that the ball feels a bit soft and light due to the EVA foam used in it. In addition, 15% polyurethane is used to make it water-resistant. The coat of the container will never allow its shine to fade.
The inner part of this soccer ball is made of latex bladders. It provides users with much better quality in official matches as compared to butyl bladder.
Keeping some of its above-mentioned features in mind like; ACC technology, Predictable trajectory, and better air retention make this ball the best choice for premium matches.
Furthermore, the price of Nike Nk Merlin is a bit high due to its high-end materials, but you should definitely try this ball if you are willing to enjoy your premium matches without any problem with the ball.
Adidas Al Rihla Pro – Best Premium Soccer Ball
Specifications:
Thermally bonded panels
Easy to manipulate
Gripy surface
Soft touch
Almost 80% of its buyers recommend this ball to buy. Their feedback about the ball is positive, saying its the fastest and best soccer ball ever. The ball is full of features such as its golf ball like dimpled surface that helps it fly faster than Adidas Telstar 18.
You can also check its different version used in winter in orange color.
Pros
easy to manipulate due to gripy surface
Great rebound
Good air retention
Easy to track
Less water uptake due to thermally bonded panels
Very responsive
Cons
A bit expensive
Available in size 5 only
Adidas Al Rihla was the official ball of the FIFA 2022 world cup. Al Rihla means "Journey" in the Arabic language. The ball was unveiled on march 30, 2022, by Adidas.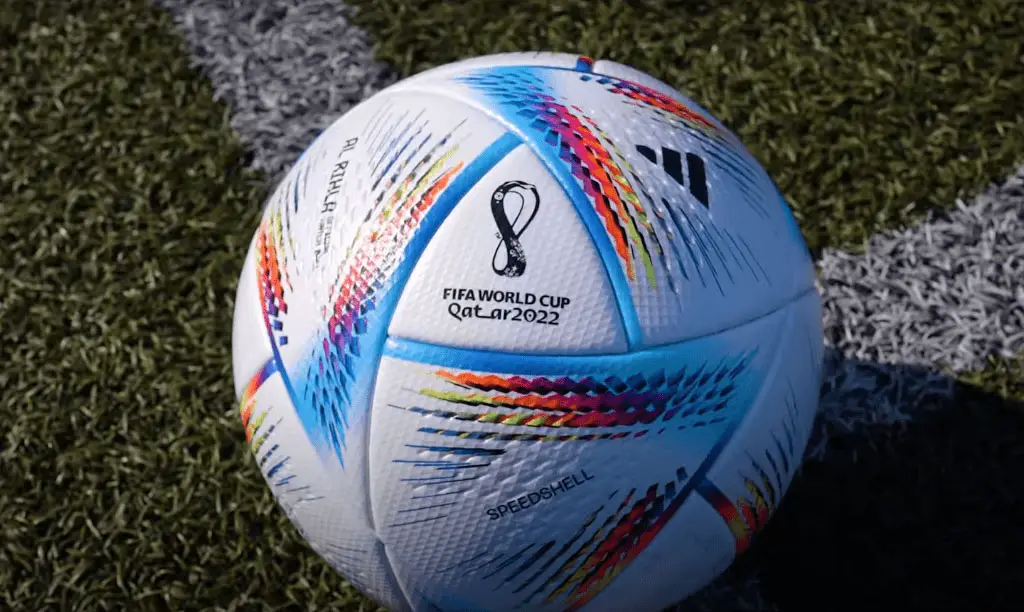 This ball has outperformed all the previously used balls in FIFA world cups, such as Adidas Telstar (2018), Brazuca (2014), and Jabulani (2010). What helped this ball to outperform all its competitors on the market are its following qualities/features; excellent air retention, outstanding durability, stable flight, less water uptake, and fantastic color design inspired by Qatar's boats and the flag.
One of the most important and much-appreciated features of this soccer ball is it doesn't flat as earlier as the other official match soccer balls due to its butyl bladder. This feature makes it the best choice for professional players who play more and pump less. It means you can also consider this ball for advanced training and matches.
The Al Rihla pro was designed with 20 big and small size diamond-shaped thermally fused panels, which ensures less water uptake, optimal shape, and better aerodynamics. Its golf-like dimpled outer surface helps it travel faster and longer, which helped it win the title of the "Fastest ball in the history of the tournament" by some players.
Its graphics helps this ball easy-to-track that makes it more special and suitable for almost 99% of soccer players. Not only our team but Almost 90% of FIFA world cup 2022 goalkeepers recommended Al Rihla pro for its high visibility and outstanding graphics.
Wilson Traditional Soccer Ball – Best street soccer ball
Specifications:
Machine-sewn panels
Easy to manipulate
Affordable price
Get this ball if you want to improve your driblling skill. This ball is suitable for dribbling because of its more panels that make it easy to control.
Pros
Available in size 3, 4, 5
easy to manipulate
Great rebound
Good air retention
Easy to track
Available in four different colors
Very responsive
Cons
Traditional design
For recreational use only
Do you want to improve your soccer skills in your home's backyard? Do you need a ball that can meet your expectations? Well, we present one of the best machine-sewn soccer balls that lasts longer, which is a perfect choice for the street, home's backyard, or pitch.
Furthermore, this ball is usable only for recreational play and practice sessions. Choosing such a ball like Wilson can be the proper selection for those who want to improve their dribbling and juggling skills to the next level.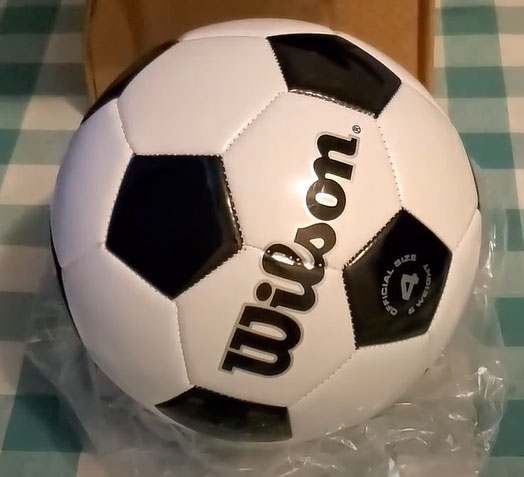 Did you think for a second about how it can be helpful in practice? How can it improve your skills? Why do we recommend it as a practice ball?
Well, its black and white pentagon shape panels make it easy for you to track and control the ball. In general, every soccer player knows that a ball that is easy to control can be the reason for the improvement of soccer dribbling skills.
The more are the panels, the more it is suitable for practice and training.
Further authenticating that the ball's cover is made of Synthetic leather, which improves its durability, and makes it a perfect ball for juggling, training, or practice sessions. You definitely need a ball that is durable and affordable if you are going to buy it for training and practice.
Machine stitching makes it feel soft, easy to head, and a suitable choice for young or beginner players who find it difficult to play with heavy balls.
It is well-built and long-lasting, as per our personal experience. The ball's cover doesn't peel off as long as you use it roughly on hard surfaces such as roads, terrains, and rocky ground/surface.
Why did we include or recommend this ball in our list? The answer is that it is made of well-known genuine materials but still sold at an affordable price. One of its valuable materials is its butyl bladder which retains air for longer and gives the ball a perfect spherical shape.
The ball is shipped deflated. You will get a manual pump with the ball's package. You should inflate it 8-10 psi in order to get good results.
In order to include this ball in our list, we observed every benefit and drawback of this ball. Some of its benefits include; good air retention, durability, graphics design, grip, and affordable price. And the drawbacks include; poor trajectory and traditional design.
The only reason for including the Wilson Traditional soccer ball instead of the Wilson NCAA in our list was the price and customers' feedback. Both of these balls are almost the same in performance, but Wilson Traditional was a bit low in price, and customers' feedback was a bit more favorable than Wilson NCAA.
Nike Pitch Team Soccer Ball – One Of The Best Nike soccer balls size 5
Specifications:
Excellent durability
Affordable price
Inflates quickly
If you are searching for a ball that is well-tracked, then this ball is for you. It can become your favorite if you are a learner. Nike has made this ball for training purposes only.
Pros
Available in size 3, 4, 5
Has a high visibility against dark backgrounds
Long lasting
2-years stitching and shape retention guarantee
Good air retention
Available in five different colors
Very responsive
Let us introduce Nike's most famous and one of the best size 5 soccer balls. You should not skip this ball if you are searching for one of the best soccer balls for training at a cheap price.
Why did we include this ball in our list of top picks? Well, we check every ball by ourselves, passing them through our several processes of tests. Once a ball passes our air retention, performance, shape, bladder, cover, and graphics tests, then we include it in our list of well-performing footballs.
Our priority is to suggest the best budget balls to you, which stay durable, and are perfect for your purpose of play, and this ball is one of our top picks because it fulfilled all of the above-mentioned tests and training requirements. This is why we picked the Nike pitch team football.
What we checked is that the ball performed very well against wall kicking and gave a class outcome during practice sessions.
What makes it sturdy and durable are its machine-stitched panels,15% of polyurethane, and 13% of Polyester used in it. You also get 2-years stitching and shape retention guarantee, which means the ball is trusted to buy.
Another fact about the ball that we liked is that it inflated quickly and perfectly. You won't notice any air loss in a couple of weeks. It bounces normally and feels great and soft, which is why the players like it to play with. You will initially find it a bit sticky, but it settles after an hour of play.
It would be best to remember that not only durability and performance matter, but also graphics. However, a ball's graphics helps players to track the ball conveniently across the pitch, which is why so many players reject a good quality ball when it has poor graphics. The ball we presented to you became our best choice because of its amazing graphics, excellent durability, and affordable price.
So the reason for recommending or including this ball in our list instead of including the Nike Nk pitch or Senda Amador was its low price, better UI (User Experience), and good performance.
Furthermore, it can also be the reason for your satisfaction in recreational play, but when it comes to training, this football is then mind-blowing.
Numero 10 All White – Best Select Soccer Ball Under 50 Dollars
Specifications:
NFHS/NCAA-approved
Golf-style surface
Great trajectory
I named this ball as Peregrine falcon because of its great trajectory and stable flight. You will feel it neither heavy nor lightweight. That is why the ball travels fantastically.
Pros
Spherical shape and soft touch
High visibility
Good for curving
hand-stitched panels for high durability
Amazing rebound
Very responsive
Cons
Available only in size 5
Shipped deflated
Select, a well-known soccer ball brand, manufactures this ball. And let me say as an example that Numero 10 all white is a ball that flies like a Peregrine falcon. Why did I say it travels like a Peregrine falcon? This NFHS/NCAA-approved ball has a PU golf-textured surface that helps it to travel outstandingly through the air.
Its golf-style surface ensures better aerodynamics and makes it faster to provide a better trajectory. As per our personal test, its speed and performance were admirable in less cold areas too.
A soccer ball from Select usually comes with 32 hand-stitched panels. Select manufactures these balls with 20 hexagonal and 12 pentagonal panels that help the players to manipulate this ball easily and perform with it the way they want to.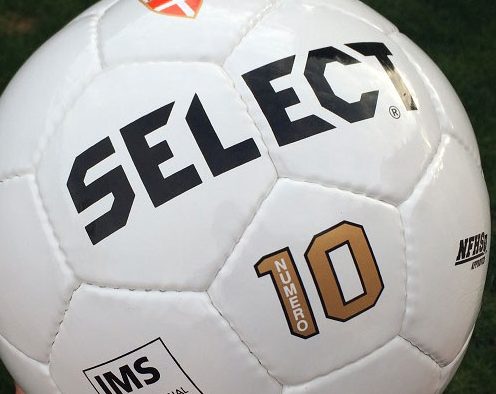 The first model of this ball was Select Numero 10, which was used as a premium and official match soccer ball. Letter on Select produced its "All white" model that performs the same as its pro ball, but the plus point is it can be used both as a training and a match ball. It means you don't need to spend your money twice to buy two balls for training and matches.
Moreover, it is made of premium materials and has a latex bladder inside to ensure good bounce, exceptional rebound, and nice air retention. It feels soft because of its neoprene foam which the ball is made of.
You will get a 2-years stitching and shape retention guarantee; this is why you can trust this ball to buy as a match ball. Furthermore, it would be best if you did not worry about its durability.
After comparing "Numero 10 All White" with one of its competitors, "Select Numero 10", we noticed that they both are performing in the same way. What we liked in this ball more than Numero 10 was its speed and stable flight. One more thing that compelled us to recommend this ball was its reasonable price and multipurpose usage.
The seller ships this ball deflated, and you will need to inflate it yourself. It may be a bit worrying for you because, for inflation, you will need to arrange an inflation needle and a pump.
Adidas Uniforia Pro – Best Quality Soccer Ball for Premium Matches
Specifications:
FIFA-approved
Tested by 600 players
Made of 100% polyurethane
Don't hesitate while buying this ball. Why? Because not only our team of experts but also 600 players from 12 different countries have tested it. This best premium match soccer ball has passed all FIFA tests, and that is the reason to trust it.
Pros
Great rebound
retains its spherical shape until the ball lasts
Unique graphics/design
Good for curving
Great trajectory
Good air retention
Amazing durability
FIFA-approved
Very Responsive
Best in performance
Cons
Available only in size 5
Expensive than some other official match balls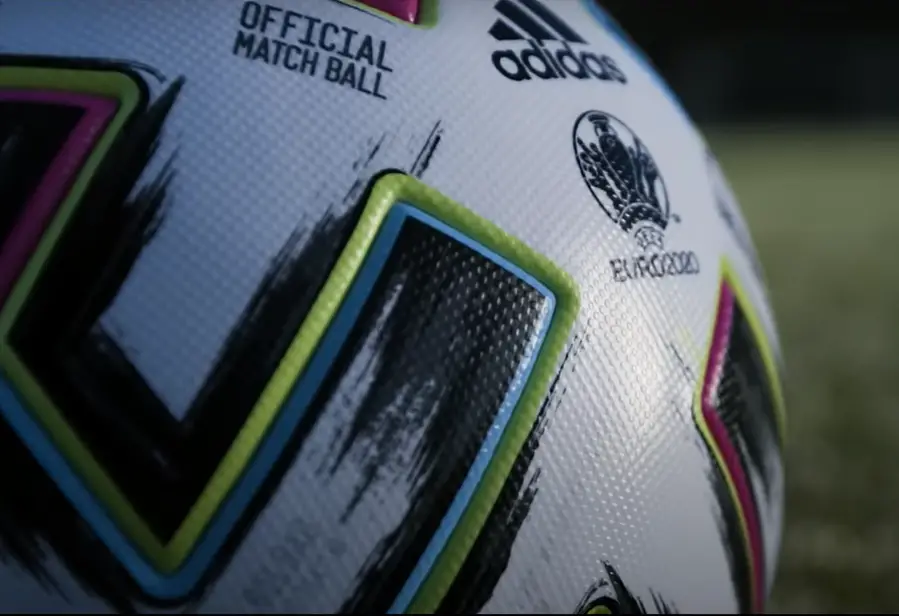 Adidas Unifoia was unveiled in 2022. This ball is now available in many different versions such as; Adidas Uniforia Pro (OMB), Matchball Replica "League," Matchball Replica "Training," and Matchball Replica "Club." All of these versions have different price tags and different values when it comes to usage.
Uniforia pro got the label of an official match ball because it passed all FIFA's tests to become FIFA certified/approved. You can use it in your official matches without any fear of tear, damage, or worse performance.
Whether you are a goalkeeper, fullback player, or attacker, this ball suits you very well because it is easy to track, easy to manipulate, and easy to push or kick.
The ball costs very high because it is made of high-end materials because it is made especially for premium matches. 100% polyurethane leather and a dimpled outer cover help it to have better aerodynamics to fly fastly and stably.
As discussed above, this ball's performance is admirable when it comes to official matches. We added this ball to our list because it fulfilled all the requirements that a professional player should expect from a pro ball. It satisfied us with its fantastic kicking, admirable rebound, good responsiveness, soft touch, and less water uptake.
I think you should not stop here reading about it. There is a lot more to read about this ball. Let's go to Adidas Uniforia Pro's in-depth review and history to know; what sets this ball apart from its competitors, how it has been designed, and how this football performs in different areas.
DAKOTT Ferrari – Best Outdoor Soccer Ball
Specifications:
Good for training & practice
Easy to track
long-lasting
The overall performance of this ball is remarkable. It doesn't flat early and retains air for longer. This is what makes it a good choice for outdoor/indoor training and practice use.
Pros
Great performance
Simple and traditional design
Stable flight
Easy to track
Good for outdoor play
fantastic rebound
Available in 4 different beautiful colors
Cons
Available in size 5 only
Feels little bit heavy
Shipped deflated
Let us introduce a simple-looking soccer ball whose design has its own fans and users. As you know, better that beauty doesn't make a ball the best, but performance and construction do. I admit that beauty and graphics help us track the ball easily, but your first priority should still be its construction and performance.
We replaced the "Shoke" soccer ball with "DAKOTT Ferrari" in our list because DAKOTT outperformed Shoke after comparing both. DAKOTT gave better results on the backyard, natural grass, streets, and other hard surfaces.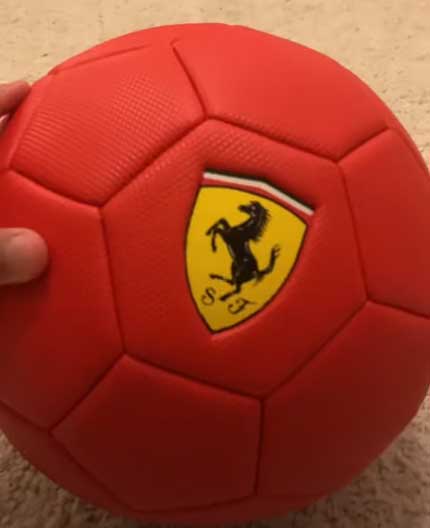 This Ferrari soccer ball is a perfect choice for outdoor and indoor use. I don't say that the ball is just for recreational play. In comparison, it is good for training and practice sessions. Its textured outer cover helps the players to control it easily to improve their dribbling skill. Get one if you are searching for a ball that can be used for both outdoor and indoor playing purposes.
If you desire a ball that retains air well, we recommend this one as a good option for you. The combination of its butyl bladder and machine-stitched panels makes it strong enough to control the air pressure and avoid water uptake.
Furthermore, if you are searching for a ball that remains durable, retains air for more time, and can perform better on grassy and hard surfaces, then this one is recommended for you. The plus point of this product is it comes at a very low price but performs like an expensive one.
We liked this ball because of its multipurpose use, a high number of positive customer feedbacks, performed better than many other balls in our team's group play and remained more durable than many other expensive balls.
In addition, you can not use DAKOTT Ferrari for your official or competitive matches. Neither its manufacturer nor its fans recommend it for serious matches.
Nike Academy Team – Best for Friendly Matches and Practice
Specifications:
Great air retention
Easy to track
long-lasting
The Nike Academy Team Soccer Ball is a high-quality ball that is designed for use by professional and amateur players alike. The ball is made from a durable synthetic leather that is resistant to tearing and abrasion. It also has a reinforced rubber bladder that helps to retain air pressure and shape.
Pros
affordable price
latest and attractive design
Stable flight
Easy to track
good for practice and friendly matches
great rebound
available in different sizes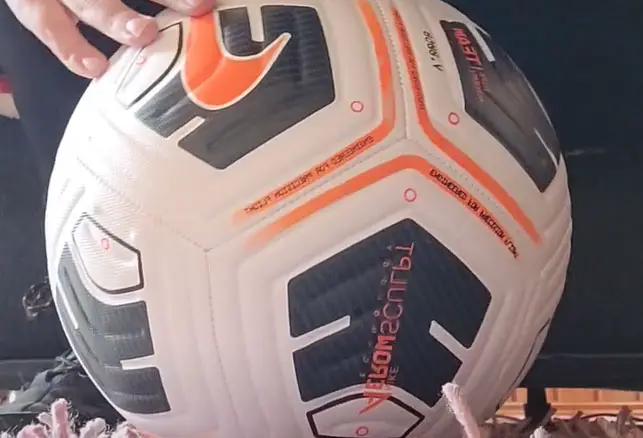 Are you a soccer player looking to take your game to the next level? Then you need to get your hands on the Nike Academy Team Soccer Ball. This ball is designed with superior features that will help you become a better player and make every game more enjoyable. Let's dive into why this soccer ball is the perfect addition to your training equipment.
The Nike Academy Team Soccer Ball is built for serious performance. Its 12-panel design offers superior touch and feel, while its high-contrast graphics make it easier to follow the ball's spin, trajectory, and movement in flight. As per my observation, its durability ensures it will stand up to whatever punishment you dish out at practice or during a game.
The Nike Academy Team Soccer Ball also offers enhanced comfort and control thanks to its micro-textured casing. This casing helps reduce slippage between your hand and the soccer ball, giving you greater control over shots, passes, and kicks.
The 32-panel construction also helps minimize water absorption so that you can keep playing even when conditions are wet. And with its soft foam backing, this soccer ball provides consistent bounce so that kickers can be sure of getting good contact no matter how hard they hit it.
Finally, if you're looking for maximum visibility in any light condition, then look no further than the Nike Academy Team Soccer Ball. Its high-contrast graphics provide excellent visibility outdoors in bright sunlight as well as indoors under artificial lights—so no matter where you play, this ball will be easy to track from start to finish. Plus its bold yellow color makes it easy for referees and teammates alike to identify quickly from a distance.
The Nike Academy Team Soccer Ball is a high-quality ball that is designed for use by professional and amateur players alike. The ball is made from a durable synthetic leather that is resistant to tearing, and it features a reinforced butyl bladder that helps to keep the ball's shape. The ball also has a textured surface that helps to improve grip, and it is available in a variety of colors.
The ball is made from a durable polyurethane material that is resistant to tearing, and it features a butyl bladder that helps to keep the ball's shape. The ball also has a textured surface that helps to improve grip.
The combination of price and quality renders this ball a go-to option for soccer players in search of a high-performing ball for both recreational matches and practice sessions. Hence, we highly recommend this ball as one of the top picks in our list. Furthermore, it is available in two other versions, namely Nike Academy Pro and IMS. However, based on our experience, we advise against purchasing its pro version.
All in all, the Nike Academy Team Soccer Ball is an excellent choice for any serious soccer player looking for superior performance at an affordable price point. Its 12-panel design provides superior touch and feel while its high-contrast graphics deliver maximum visibility no matter where or when you're playing. Plus its durable construction ensures that this soccer ball won't let you down anytime soon! So if you want an edge on the field then grab yourself a Nike Academy Team Soccer Ball today!
Adidas UCL League Ball – Training and Professional Matches ball
Specifications:
Ensures High-Quality
Long-Lasting Use
The adidas UCL League soccer ball is a high-quality, durable ball suitable for training and performance. Its seamless TSBE technology and FIFA Quality certification ensure excellent performance. It's an official size 5 for adults and requires inflation before use. A top choice for serious soccer players.
Pros
FIFA Quality certification ensures high-quality performance
TSBE technology provides a seamless surface for better touch and lower water uptake
Durable plastic material ensures long-lasting use
Suitable for both training and performance
Standard size 5 is suitable for adults and recommended for ages 12+
Cons
Ships flat and requires inflation before use, pump not included
The white and multicolor design may not be everyone's preference
Plastic material may not provide the same feel as a leather ball for some players
As an avid soccer player, I recently purchased the Adidas Unisex-Adult UCL League soccer ball and have been extremely impressed with its performance. This high-quality ball is made of durable plastic material and comes in a sleek white and multicolor design that is sure to stand out on the field.
What I appreciate most about this soccer ball is that it's suitable for both training and performance. The FIFA Quality certification ensures that the ball has passed rigorous tests on circumference, weight, rebound, and water absorption, making it an excellent choice for serious players.
The ball also features TSBE technology, which provides a seamless surface for better touch and lower water uptake. This technology makes a noticeable difference in the way the ball feels and performs, giving me greater control and accuracy on the field.
The ball is sized for ages 12+ and is an official size 5, which is the standard size for adult soccer. It ships flat and requires inflation before use, so be sure to have a pump on hand.
Overall, I highly recommend the Adidas Unisex-Adult UCL League soccer ball for anyone looking for a high-quality ball that performs well both in training and during matches. Its durability, FIFA Quality certification, and TSBE technology make it a top choice for serious soccer players.
Buying Guide
Soccer balls come in many variations and technologies. Each football is specified for a different type of game and use. Spending more money on a soccer ball doesn't mean you will get the best one. So to avoid time and money wastage, you should read this best soccer balls buying guide first.
As mentioned earlier, people or players use balls for different types of games and plays, such as; professional/premium matches, simple matches, training/practice sessions, and kids' play. This may have made it obvious to you that before you make a purchase, you must know or plan what you are buying this ball for.
Professional/Premium Balls.
These balls are made of high-end materials, and that is why these types of balls cost very high. Balls of this category are built specifically for international tournaments such as; FIFA world cups, premier Leagues, MLS, or champion leagues.
Most of the premium soccer balls are checked and tested by the soccer governing bodies to ensure whether they are worth it to be used in official tournaments. So these are trusted and good-quality balls. You may trust them if you want to buy one for professional matches.
Match Balls.
These balls are used in the college and school types of matches. You can buy and play with it on any type of ground, like; natural grassy ground, turf, and futsal-type grounds.
Furthermore, you will observe that these balls cost less expensive as compared to the premium ones. Some of these balls are also FIFA or NFHS inspected and tested.
Training/Practice balls.
Training soccer balls come in many different sizes for many different age groups. Players use these types of balls to train themselves in soccer or for their upcoming soccer events.
These balls are built with butyl bladders that help the balls to retain the air for a longer time. Training balls come both with hand/machine-stiched or thermally bonded panels. In addition, they are not expensive but are still very durable.
Furthermore, a training ball should also have a textured or dimpled surface so that it can help you to improve your soccer skills.
| | | | | |
| --- | --- | --- | --- | --- |
| Soccer Ball Types | Official Match Ball | Training Ball | Kids Ball | Juggling Ball |
| Size | Size 5 | Sizes 4 and 5 | Size 2/3 | Size 4/3 |
| Weight | 410-450g | 450-500g | 260-280g | 260-280g |
| Material | Synthetic Leather | Synthetic Leather or Rubber | Rubber | Rubber |
| Bounce | Low | Medium | High | High |
| Water Resistance | Yes | Yes | Yes | No |
| Durability | A bit Low than training balls | High | High | low |
| Purpose | Competitive play | Practice/Skills Development | Small Children | Juggling/Skills Development |
Comparing the Characteristics of Different Types of Soccer Balls
Ball Sizes
Soccer balls, also known as footballs, are available in five distinct sizes, each of which has been specifically designed for a particular age group. Let's take a look at the table to understand which ball is best suited for you.
| | |
| --- | --- |
| Size of Soccer Ball | Recommended Age Group |
| 5 | 12 and above |
| 4 | 8-12 |
| 3 | 6-8 |
| 2 | 4-6 |
| 1 | 2-4 |
Gain a thorough understanding of soccer ball sizes by reading this guide. It covers everything you need to know about soccer ball sizing.
Balls' Material and Construction.
To make it easy for you, there are a few things to understand about the construction of a ball when making a purchase. Those things are; the bladder, lining, cover, panels, stitching, and graphics.
Let's have a look at all of these one by one…
Bladders:
The bladder is a balloon-like round and flexible part inside of a ball that is pumped and filled with air to inflate the ball. The innermost part is made of two different types of rubbers. This can either be a "Butyl Bladder" or "Latex Bladder."

Butyl Bladder:
They are cheaper than latex bladders.
Retains air for a long time as compared to Latex Bladder.
They are mostly used in training balls to ensure good air retention and durability.
It can bear rough and successive use.
It might not be as responsive and as soft as a latex bladder.
Latex Bladder:
They are used in premium and official match balls.
Provides better bounce, soft touch, admirable rebound, and outstanding responsiveness.
They are more costly than butyl bladders.
Latex bladders are not as good as butyl bladders in air retention.
Lining:
The lining of the ball is made of polyester or cotton blend. It helps a ball to become more stronger than the one that doesn't have a lining in between the bladder and the ball's cover. The lining also helps the ball to remain long-lasting and retain its spherical shape.
Cover:
To make it simple, a ball is made of either PU (Polyurethane) or PVC (Polyvinyl Chloride).
PU (Polyurethane)
It is an expensive type of cover or material that helps the ball to provide a soft touch, responsiveness, good rebound, less water uptake, and better manipulation feature. Professional/premium balls commonly contain PU casing.
PVC (Polyvinyl Chloride)
As compared to PU covers, PVC is more durable and affordable. Balls for training and recreational play mostly contain a PVC casing. According to many professional players, a ball with a PVC cover feels a little bit hard and heavy. PVC casings are good for street, indoor soccer, and training plays.
Panels:
There is a simple science behind the panels. The more are the panels the easy it will be for you to control the ball. This means a ball with more panels is good for training and practice sessions to improve your dribbling or controlling skills.
Fewer panels mean more aerodynamics to the ball and better and more stable flight the ball will have. Premium balls come with fewer and fancy panels that help the ball to travel longer and faster.
Stitching:
A ball can either be hand-stitched or machine-stitched. Hand-sewn balls are more durable as compared to machine-sewn balls. Training balls are commonly hand-stitched, whereas fancy and premium match balls' panels are either machine-sewn or thermally bonded.
Graphics:
Graphics play a vital role when it comes to choosing a ball. I do not recommend a ball that is dark in color, as it can be difficult to track through the air under certain conditions. Opting for a ball with a light color scheme makes it more convenient for you to track its movement. Additionally, these types of balls are not only favored by players and spectators but also by goalkeepers.
Importance of Using a High-Quality Soccer Ball
A high-quality soccer ball is extremely important for anyone who wants to take their game to the next level. It helps an individual become more accurate when passing, shooting, and dribbling with the ball.
Furthermore, a good soccer ball will provide extra bounce, which can make all the difference in a match situation where split-second decisions can be the difference between winning and losing. Not only that, but a quality soccer ball will have greater longevity than lower-quality balls, meaning it won't easily deflate or lose its shape over time.
All in all, any serious soccer player should invest in a top-of-the-line soccer ball if they want to get the most out of their training and gain every advantage when playing competitively.
Conclusion
If you have read the above buying guide and reviews, then you don't need to worry about how you will identify the best soccer balls online or in the market. You have learned everything about how to choose a genuine and good quality soccer ball.
As mentioned before, spending more of your money on a ball will not make your purchase perfect until you have not planned what you are buying this ball for.
You are now ready to go and can make a purchase. Have a happy and joyful gaming experience with your dearest and beloved ones.
FAQs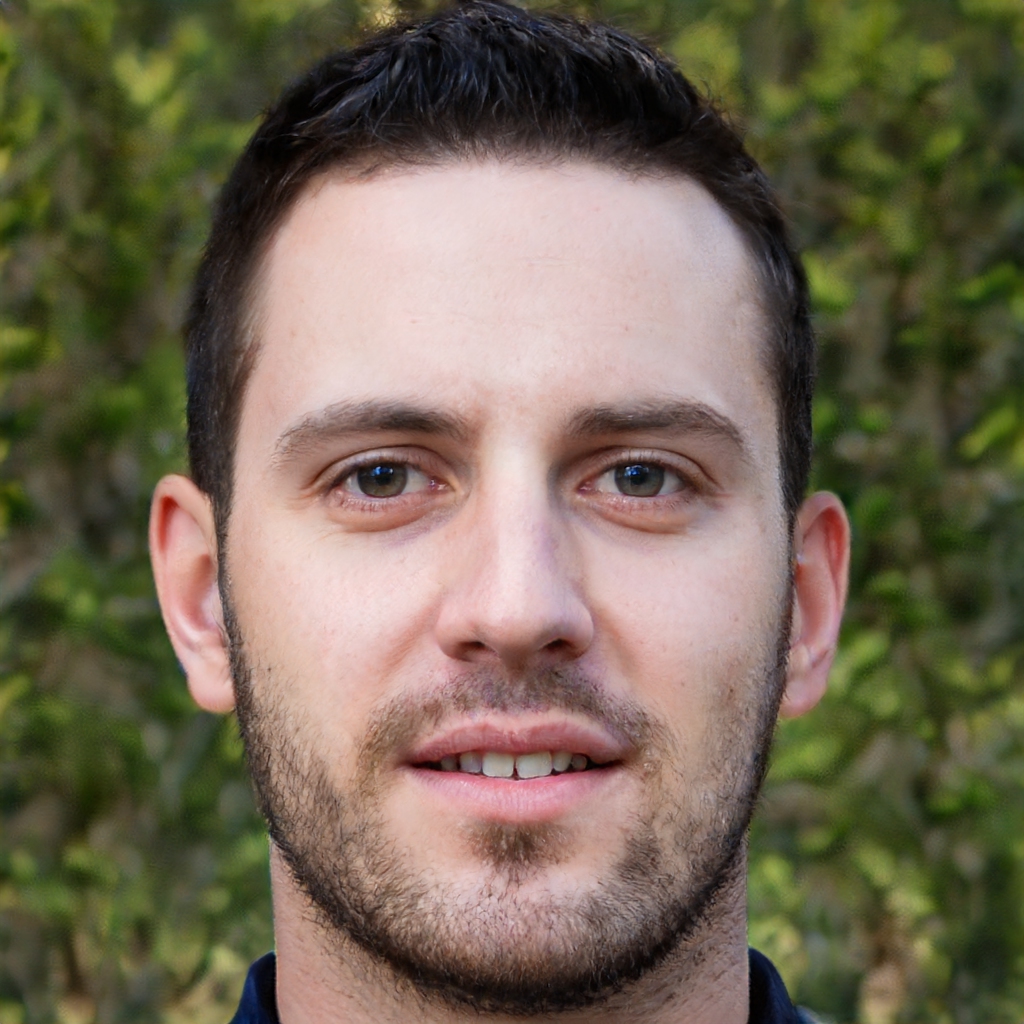 Being a soccer enthusiast and the owner of shoothesoccer. My aim is to manage my team and keep this blog up to date so that I can help my readers read the latest and up-to-date content regarding soccer. Me and my team try our best in assisting soccer lovers to get the best soccer products and improve their game to the next level.