Best Soccer Balls For Juggling/Freestyling – Top Trainers
Soccer balls come in various sizes, various designs, and various purposes of use which make it tough to give a definitive answer on what are the best soccer balls for juggling. To help you narrow your search, we have compiled a list of variables to consider when buying a new ball.
If you're wondering how to find a quality ball for juggling, then this article has all the answers for you. This review is based on our expert team's extensive research and several tests. You will surely find something special that you are looking for.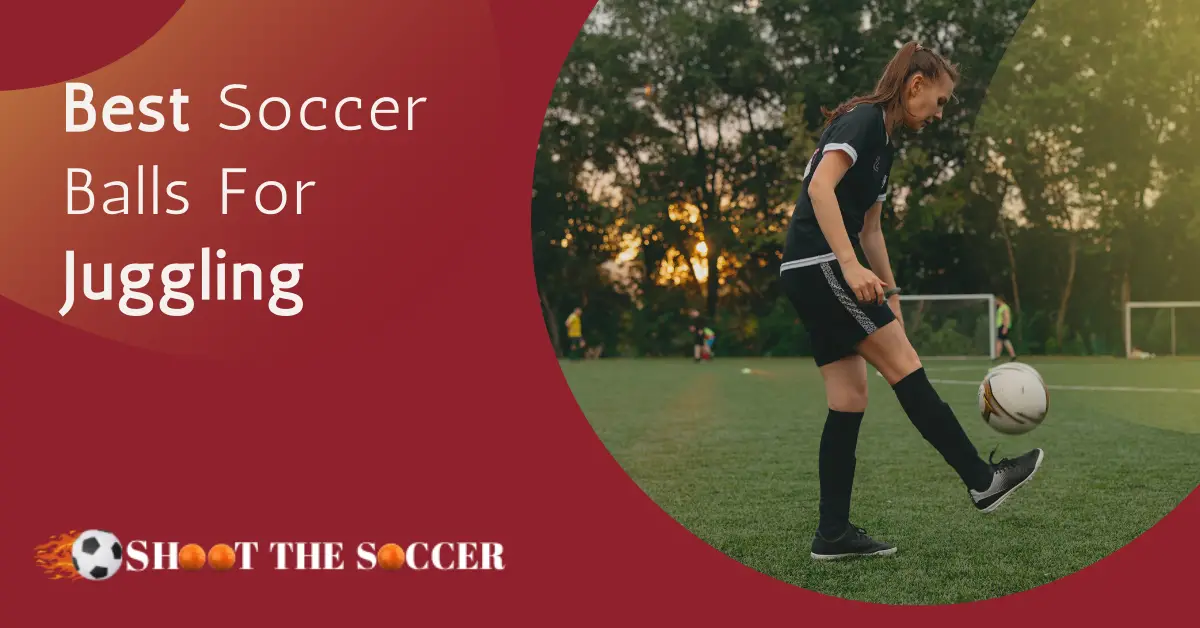 How To Choose The Best Footballs For Juggling?
When considering the purchase of a soccer ball for juggling, several factors should be taken into account. These include the durability, construction, and category of the ball. Choosing a ball that aligns with your criteria for juggling ball selection can ensure that you make a decision that you will not regret in the future.
Construction: When purchasing a ball for training sessions or to enhance juggling skills, it is important to consider several key features. These include:
Hand-stitching for enhanced control and durability
A textured, grippy surface for improved handling
An increased number of panels for optimal performance
A butyl bladder for prolonged air retention.
Durability: It is a crucial aspect to consider when purchasing a ball. Factors that contribute to a ball's durability include:
A synthetic leather cover, providing a protective layer and improved resistance to wear and tear
Four layers of lining, providing additional reinforcement and support
Hand-stitched panels, ensuring a secure and stable construction.
Category: When planning to purchase a ball for training or juggling, it is important to select a ball that is specifically designed for these purposes. It is not recommended to purchase an expensive ball or a ball that is intended for competitive matches, as the high price tag does not necessarily indicate superior quality. Instead, consider selecting a ball from the category of training balls, which are specifically designed for skill development and practice.
I hope this information has provided you with valuable insights on how to select the ideal ball for juggling or training. It is important to note that purchasing a more expensive ball does not necessarily guarantee superior quality, it is crucial to consider the specific intended use and select a ball that is tailored to meet those needs.
Here we share some reviews on what are the best soccer balls for juggling.
| | | | | | |
| --- | --- | --- | --- | --- | --- |
| Comparison Chart | Senda Street Football | ATB All Terrain | Telstar 18 | Nike League Strike Ball | SKLZ Star kick solo trainer |
| Brand | Senda | American Challenge | Adidas | Nike | SKLZ |
| Material | Rubber | Rubber | Synthetic | Polyester | Synthetic |
| Color | Black/White | Black | black and white | White | Green and white |
| Size | 4 | 5, 4, 3 | 5 | 5 | 1 |
| Special Features | super-grippy | resist abrasion and last longer | Class rebound | Long-lasting | easy to handle |
Comparison chart
This site is a participant in the Amazon Services LLC Associates Program, an affiliate advertising program designed to provide a means for us to earn fees by linking to Amazon.com.
SENDA Street Freestyle Soccer Ball
Specifications:
Super Durable
superior control
reinforced bladder
An ideal option for individuals looking for a durable soccer ball to enhance their juggling abilities.
Product Review:
If you seek to diversify your soccer playing experience by taking it off the field/home and into the streets, the SENDA Street Freestyle soccer ball may be the ideal choice for you. Its superior air retention, out cover's durability, and premium grip make it a top pick for street soccer enthusiasts.
Street soccer requires a distinct set of skills that go beyond the fundamentals of the game. To excel in this environment, you need a soccer ball that is specially designed for the street play. That's why we reviewed and recommended the SENDA freestyling soccer ball, to help you develop and showcase your freestyling/juggling abilities.
Street soccer balls must possess both grip and durability. The SENDA street freestyle ball is engineered to meet these requirements. Its sticky and grippy tire-like outer cover ensures better ball control, facilitating the improvement of your juggling skills.
Air retention is a crucial aspect to consider when selecting a ball for street play. To enhance air retention, the SENDA street freestyle ball is equipped with a butyl bladder. This bladder ensures that the ball maintains optimal air pressure for an extended period of time.
In terms of playability, this soccer ball performs extremely well on all types of surfaces, including artificial turf and concrete. This makes it a great choice for playing in parks, playgrounds, or even on beaches. Additionally, due to its lightweight design and construction – it can be used even in windy conditions without any issues.
Overall, the Senda FeestylingSoccer Ball offers several advantages over some other traditional soccer balls that make it an excellent choice for any player looking to improve their game.
Its unique construction and materials provide outstanding control and comfort while still retaining power – making it perfect for any outdoor playing environment.
It's made by SENDA company, and as of my knowledge cut off in 2021. It's a standalone product; no other versions of it have been released yet.
What I liked
Budget-friendly
Tire-like cover surface for better gripping and control
Better air retention
Reduce bounce quality also offers excellent control
What I didn't like:
Not recommended for group play
Not a match ball soccer ball
ATB All Terrain
Specifications:
A combo of football and soccer ball
New ball with optimal grip
Available in 3 sizes
Improve agility, balance, timing, and coordination
A soccer ball that is designed to withstand a variety of surfaces, including concrete, rocky, and rugged terrain. This ball is an excellent choice for both outdoor recreational play and juggling practice, thanks to its durability.
Product review:
The American Challenge ATB All Terrain Outdoor Rubber Street Soccer Ball is a great choice for any player who wants to practice his skills on an outdoor surface. This ball is designed with a durable rubber cover and a highly-textured surface, giving it superior control in all weather conditions.
Here, we will provide a comprehensive review of this soccer ball and discuss why it's an excellent choice for anyone looking to take their juggling skill to the next level.
The first thing that you'll notice when you pick up this ball is the high-quality construction. The rubber cover is designed to be ultra-durable, meaning it won't tear or wear down easily with regular use. I noticed its textured surface also helps with grip, allowing for more accurate passes and shots.
Additionally, the ball has been weighted perfectly so that it will not drift away from your foot when passing, shooting, or juggling – making it ideal for practicing outdoors in windy conditions.
Another benefit of using this ball is its size – at 10", it's larger than the standard 8.5″ soccer balls used in matches which makes it easier to manipulate with your feet and head. Furthermore, it performs brilliantly on any type of hard surface like rocky grounds, streets, and concretes.
What makes a good ball for juggling is its more panels. More panels ensure that the ball is easy-to-control and can help soccer players to improve their juggling, manipulating, and dribbling skills.
Overall, the American Challenge All Terrain is an excellent training tool thanks to its superior construction and design features. Whether you're playing on grass or concrete surfaces, this ball offers enhanced control and visibility, which can help improve your overall game performance significantly.
Our list of top juggling balls originally included the Ace Glider Soccer Ball. However, upon further comparison with the American Challenge ball, we found that the latter exceeded expectations in terms of durability, control, and overall quality of materials. These factors contributed to the American Challenge ball outperforming the Ace Glider.
The decision to replace the soccer ball with the Ace glider was made to offer our users a more cost-effective, high-performing option that is consistently available for purchase online.
The ATB all-terrain soccer ball by American Challenge is a one-of-a-kind model. Despite receiving numerous positive reviews from customers, the brand has not created any other versions of this football.
What I liked
Extra durable
Perfect for games on hard surfaces
Made for outdoor play and juggling
Best air retention
What I didn't like:
Feels a bit hard and heavy
Adidas Telstar 18
Specifications:
The Adidas Telstar 18 is a premium match ball that exhibits exceptional performance when utilized for juggling.
Product review:
The Adidas Telstar 18 soccer ball is one of the most advanced and highly rated soccer balls on the market today. This ball has been designed to provide superior control, responsiveness, and accuracy for any level of play – making it an ideal choice for juggling or competitive games.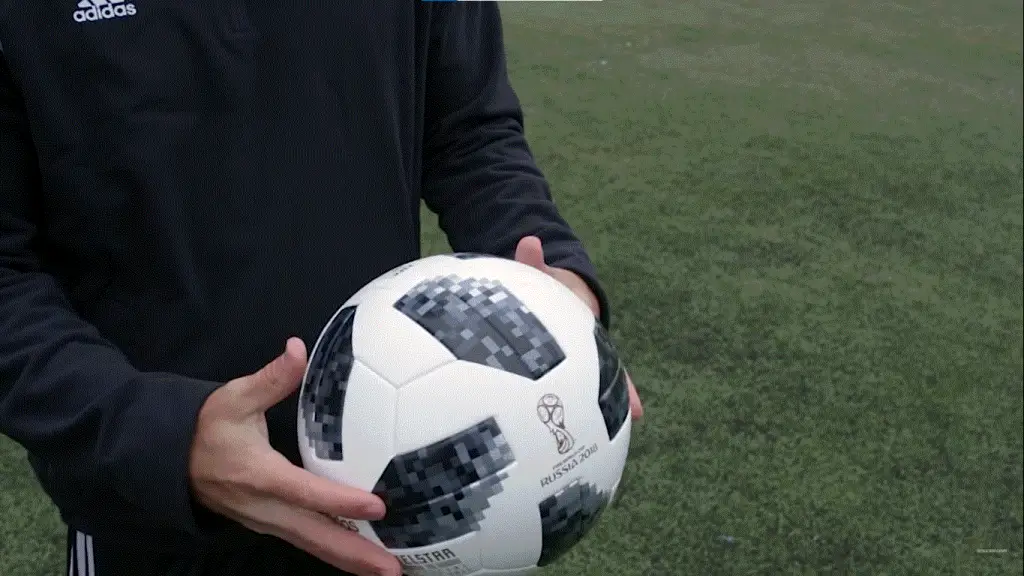 In order to avoid any damage to the ball, you should be confined to use it in your premium matches and juggling practice only. Here, we'll take a close look at this soccer ball and discuss why it's one of the best balls to buy.
Despite this, if you wish to utilize the Telstar 18 at a reduced cost, you may opt for its top replique or glider. The replique will be more cost-effective, yet provide nearly identical performance as the official Adidas Telstar 18 match ball. When comparing the performance of both the official and top replique versions, we did not observe any significant differences.
For starters, the construction of the Adidas Telstar 18 features premium rubberized materials that are designed to handle all types of surfaces with ease. The textured surface makes controlling passes more precise while also providing added cushioning when shooting or passing. Additionally, the rubber cover and six thermally bonded panels ensure that this ball will stay in excellent condition even when used in outdoor play during rain or snow.
Furthermore, the shape and design of this soccer ball are what really set it apart from its competitors like; Brazuca 2014, Adidas UEFA Finale, and Nike Ordem. Featuring a uniquely-shaped panel system to increase aerodynamics during flight, as well as an impeccable balance and weight distribution, this ball provides outstanding precision and power when shooting or passing – even in windy conditions.
Overall, if you're looking for a high-quality soccer ball that won't let you down regardless of your skill level; then look no further than the Adidas Telstar 18. Its superior construction, durability, and design features make it an excellent option for players looking to take their game to the next level – no matter where they play.
In addition, the ball is constructed with synthetic leather that guarantees long-lasting performance, a smooth feel, and responsive behavior when kicked harder. The amalgamation of premium materials and striking visuals make it a highly recommended choice by its users and us.
What I liked
Durable and long-lasting materials used in construction
High-quality construction ensures consistent performance
Lightweight, durable design with improved aerodynamics for better speed
Good air retention capabilities
Suitable for use on both firm ground and artificial turf surfaces
What I didn't like:
A bit expensive than other juggling balls
Nike Premier League Strike Ball – Best Soccer Ball For Training
Specifications:
Full-grain leather upper for durability
Lightweight synthetic for durability
Ultra-lightweight
Wide variety of colors
Utilize the Nike Premier League Strike for both competitive league matches and juggling exercises. This premium ball boasts hexagonal panels for enhanced ball manipulation, making it ideal for juggling practice.
Product review: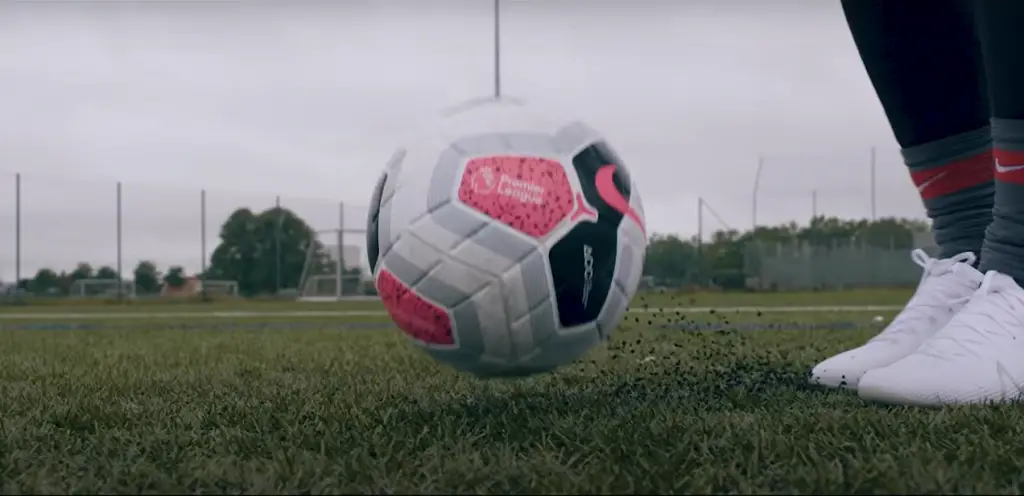 The Nike Premium League Strike soccer ball is a top-of-the-line option for players of all skill levels. The ball features a textured casing for improved grip and control, as well as a reinforced rubber bladder for increased durability. The ball also has a unique design that is inspired by the look of the ball used in the English Premier League.
The first thing I noticed when I picked up the ball was its weight. It feels very well balanced, not too heavy and not too light. The textured casing gives the ball a great feel, making it easy to control and strike with precision. I also appreciated the reinforced rubber bladder, which made the ball feel more durable and less likely to lose air pressure over time.
In terms of performance, the ball exceeded my expectations. It is very responsive and has a great flight path. The design of the ball is also very attractive, which adds to the overall experience of playing with it.
The Nike Premium League Strike soccer ball is a great option for players looking for a high-quality, durable ball with a unique design. It's perfect for match play or juggling and is built to last. The ball is priced at a premium but is well worth the investment for serious players.
The inclusion of this football in our list was influenced by several factors, including its elevated panel count, exceptional grip, and exceptional control. These attributes enable players to master ball juggling skills with ease. These characteristics were identified during our evaluation process and ultimately led to its inclusion in our recommended list, surpassing its competitors such as; Nike Pitch Team and Adidas Conext 21 Olympics Pro.
Overall, I would highly recommend the Nike Premium League Strike soccer ball to any player looking for a top-quality ball that looks and performs great. It's a great ball for the serious player and is sure to take your game to the next level. There is a minimal performance difference between the Nike Premium League Strike and its counterpart, the Nike Premier League Pitch.
In conclusion, the ball has received overwhelmingly positive feedback from its users, with a majority of them rating it highly. This serves as an indication of the ball's reliability and value for money.
What I liked
The ball is engineered for optimum performance on the pitch.
Made with a one-piece, seamless design that's long-lasting.
A brand new, dynamic feel with an engineered hybrid ball that offers a unique combination of soft and firm surfaces.
Made with Nike's 360 Touch technology to enhance responsiveness and the perfect blend of softness for underfoot control.
Made with Nike's latest generation of materials like Hexagon Grip for responsive, reliable performance.
What I didn't like:
This ball went flat early and then it was a bit hard to pump.
SKLZ Star-Kick Solo Soccer Trainer
Specifications:
versatile
4-piece set of reusable balloons
An instructional DVD
Try out the SKLZ Star-Kick Solo Soccer Trainer for a fun soccer workout. You can train yourself anywhere, anytime, at your own pace with this trainer. Hit the ball against the device and watch the rebound come right back to you, so you never have to chase after it. The weighted base provides the perfect balance to work on your footwork and guide in a natural way.
Product review:
The SKLZ Star-Kick Solo soccer ball is a high-quality and best training product or tool designed to help soccer players improve their skills and accuracy. It features a strap that can be wrapped around your ankle so it won't slip. This feature allows players to practice their techniques without the need for a partner. The ball is specifically designed to be used solo.
Because the ball is made of good-quality materials so it can withstand frequent use and undoubtedly remains a durable soccer ball. In addition, the ball has a good bounce and is lightweight, which makes it easy for players to control and maneuver.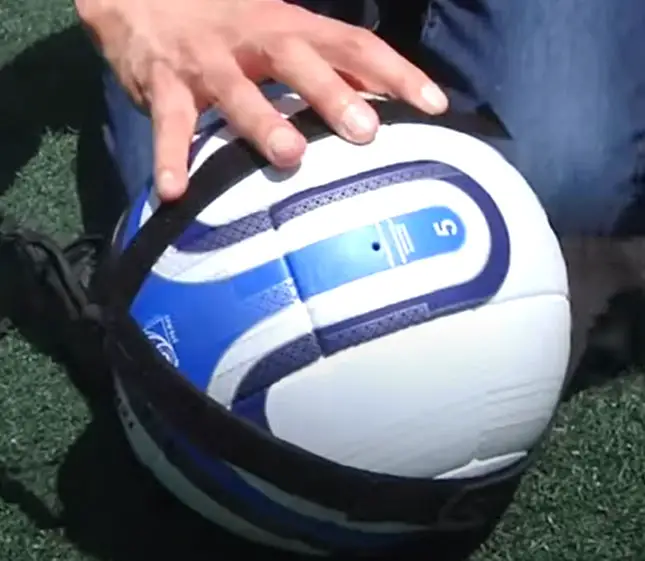 One thing to keep in mind is that, because it's a solo ball, it doesn't have the same feel as a real soccer ball when it comes to passing, shooting, and receiving. It's mostly designed for solo drills and training.
We observed that it's durable design, lightweight construction, and unique textured surface make it a versatile training tool that can help players improve their accuracy, control, and technique. These features also helped it to outperform some premium and costly soccer balls that we use for juggling.
The SKLZ Star-Kick is not designed for a specific age group of players; instead, it is suitable for players of all skill levels, from beginners to advance. It can bring beauty and joy to the training sessions as it helps players to improve their skills and accuracy.
Based on our personal observations, positive customer feedback, and the features of the SKLZ Star-Kick, it has been able to establish itself among our top-rated juggling balls. It has outperformed its competitors, such as the Adidas Capitano and Senda APex with its fantastic performance and construction.
A player can kick it easily on the grass, sand, or other outdoor surfaces. The size one ball also comes in many different colors, such as yellow, blue, and green, depending on personal preference and team colors.
The Star-Kick football provides players with a quality ball for their freestyle skills and an instructional DVD that teaches freestyle kicking techniques.
What I liked
Get instant feedback on your skills and drills with this soccer trainer
The best way to improve your skills without the risk of injury
Compatible with any soccer ball size.
Replacement of traditional t-ball system
Durable latex bladder and cover with quality stitching.
Encourages focus & accuracy by using different levels of resistance.
Comes with a size one soccer ball for added value.
Final verdict:
In order to assist you in selecting the best soccer balls for juggling and freestyling, our team of professional soccer players conducted comprehensive research and evaluated a variety of options. Our selection was based on our research and personal experience.
We hope that our compilation of top-rated freestyling balls has alleviated any confusion or uncertainty. We welcome any feedback or suggestions for additional juggling balls.
We apologize if we have omitted any important information. Thank you for your consideration.
Frequently Asked Questions (FAQs)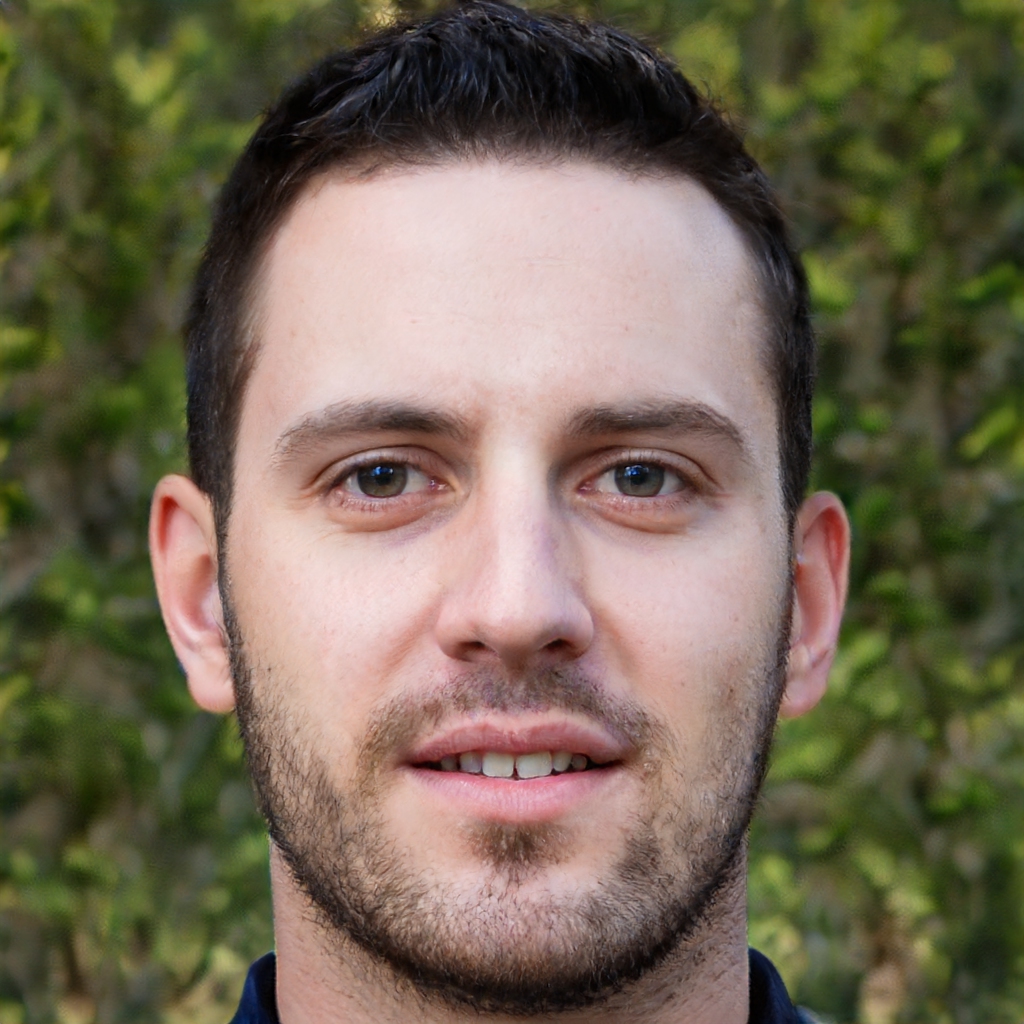 Being a soccer enthusiast and the owner of shoothesoccer. My aim is to manage my team and keep this blog up to date so that I can help my readers read the latest and up-to-date content regarding soccer. Me and my team try our best in assisting soccer lovers to get the best soccer products and improve their game to the next level.